Interior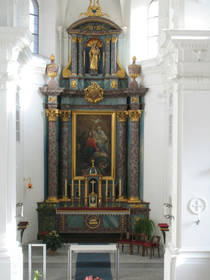 High Altar
Dating back to ca. 1820 - 1821, by Messner from Basel, plans; carried out by Lorenz Ritz, painter and Josef Ruf. carver.
Holy Trinity picture by Vittorio del Rosa, Rome.
Tabernacle with dome reconstructed in 1993 by Walter Furrer, restorer, Brig.
Side Altars
Picture on the left: Mother of God with child,
picture on the right: St. Joseph with child,
both paintings by the painter Hecht.
Ceiling Fresco
The ceiling fresco in the choir: a monstrance with two angels, possibly an original dating back to the period of construction.
Four other ceiling frescos: The Holy Trinity, the Blessed Virgin Mary, St. Joseph, and St. Ursula;
all four paintings painted by Jules Salzgeber in 1941.
Other Fittings
Pulpit, 1828
Confessionals (reconstructed in 1993)
Celebration Altar and Ambo, 1994 (by the architect Adalbert Grand, Leuk/VS),
Organ, 1994 (by Hans J. Füglister, Manufacture d'Orgues, CH-1971 Grimisuat/VS)
In March 2023 a new tabernacle was installed, by Theo Imboden, Täsch.
(Updated March 2023)