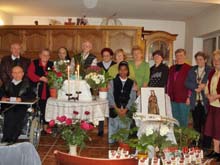 Activities in Romania: (suite du texte original)

The sisters of our community in Baia Mare are mainly involved in
visiting the sick and the old
visiting the home for the aged
teaching English in nurseries and spoken English classes
pastoral work (catechism, youth etc.)
collaborating with different organizations (Red Cross, Hospitals, Nurseries, Municipal Office etc.)
organizing summer holiday programs.
Our New Building SF. Theresa Ecumenical Center will have the following activities:
nursery
hostel for the girls
day care center for the old
day care center for the children
occasional programs (educational, recreational, leadership etc.)
We try to integrate ourselves by carrying out the above activities according to the possibilities open to us. Thus we carry the little lamp of love lit by Mother Anne to spread light and love.
Sr. Priti and Community